SUMIKAMA has been devoted to manufacturing high-quality and value-added cutlery using the over 780-year traditions of Seki swordsmiths and its outstanding skill to harmonize new technologies with new materials.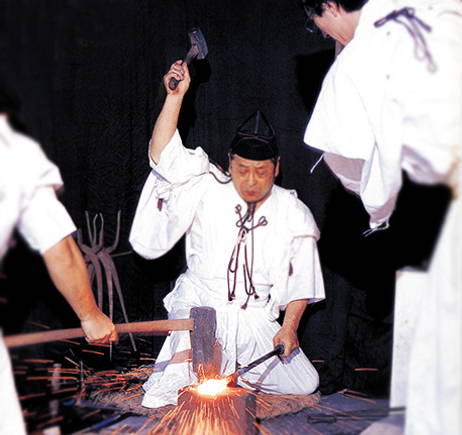 Kasumi Knives are created using over 100 years of sword making knowledge and skill.
Since 1916 Sumikama has been devoted to manufacturing the best Japanese cutlery and knives using the knowledge and skill over 100- years of sword making in Seki city. Kasumi is the brand of Knives produced by the Sumikama Cutlery factory in Seki Japan, one of the most famous areas for cutlery and knife making in Japan.
They choose the name Kasumi, meaning mist in Japanese, to launch and sell Damascus steel knives across the world. Sumikama was one of the first large Japanese knife manufacturers to use folded Damascus steel wrapped around a VG-10 core which has been replicated by many other manufacturers.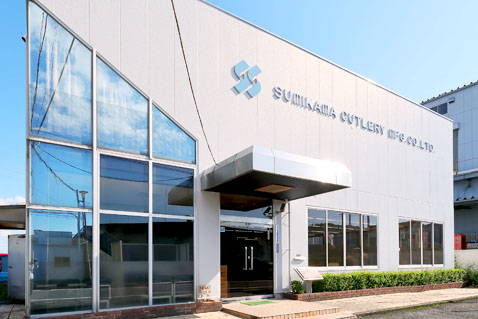 Seki city has a history of knife manufacturing that dates back over 780 years.
Sumikama is located in Seki city in the middle of Gifu prefecture and is one of the principal areas in Japan for knife making. The area around Seki city has a history of knife manufacturing that dates back over 780 years.
The conditions in the area are ideally suited for knife making; excellent quality charcoal from pine forest and clear running water from the hills and mountains in the Nagara and Tsubo rivers. Originally a source for Japanese Samurai sword making, Seki has since developed a reputation in Japan and abroad for producing exceptional kitchen knives.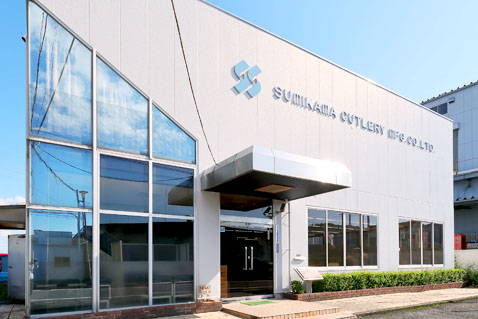 Sumikama specialises in using VG-10 stainless steel, a steel mix containing molybdenum, chromium, vanadium and cobalt which means that Kasumi knives are hardened to above 60 HRC. Sumikama typically uses a 15 degree bevelled edge on his knives, with quite thin blades and they are always as sharp as they are beautiful.

Our Kasumi ranges are sub divided into the original Damascus series, a VG-10 Titanium coated series, a hammered finish VG-10 range and a new pure VG-10 knife range. The Damascus range holds a thorough selection of different knife sizes. All ranges are available to purchase as individual items or we provide a specially selected knife block set for each line.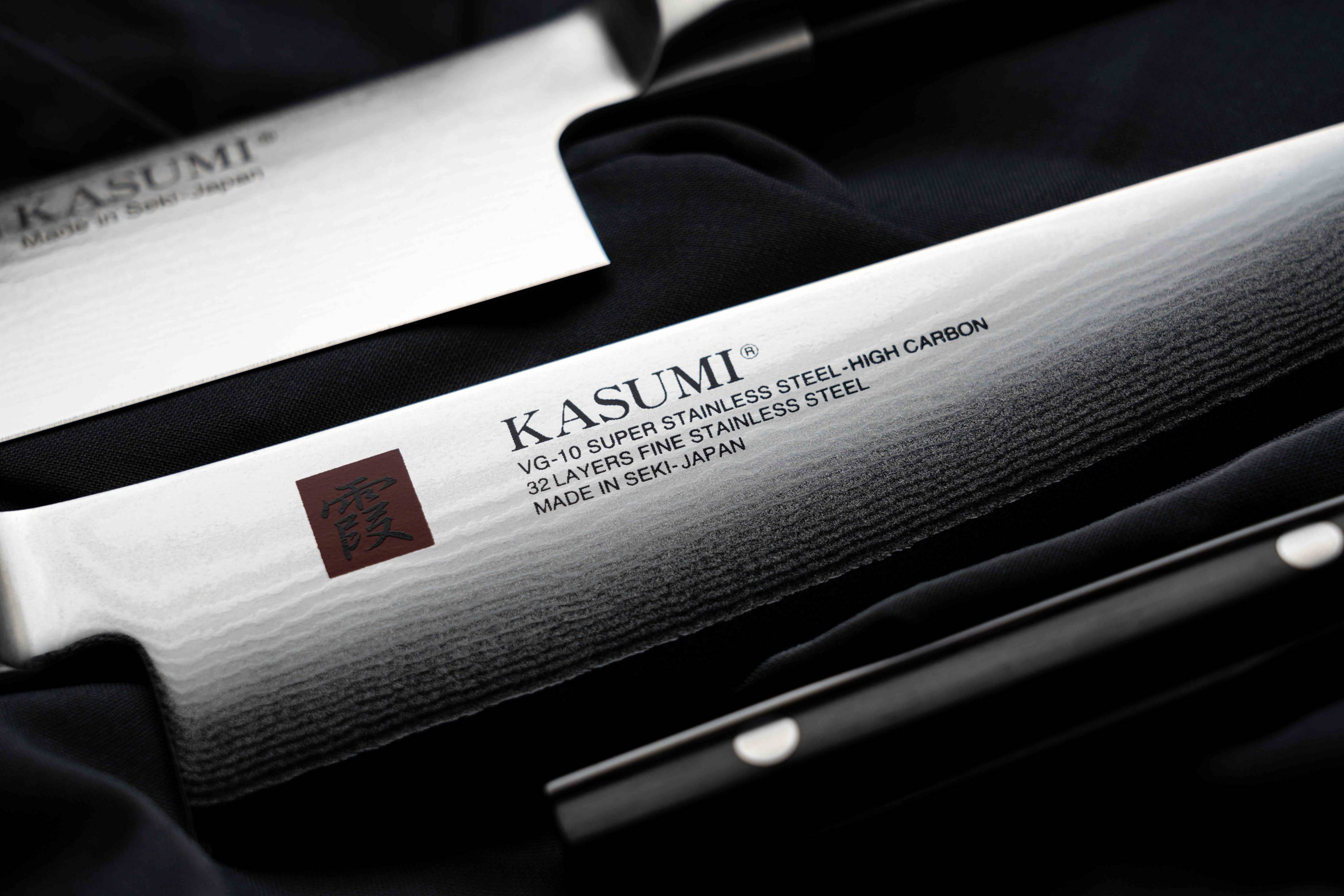 An elegant "Kasumi-patterned" Damascus knife consisting of 32-layer stainless steel.
A super hard alloy VG-10 is used as a core material of the blade. This knife series features the "KASUMI (haze) pattern," that emerges in forging a blade consisting of 32 layers of stainless steels holding the core material. Carefully finished by professionals, the sharp cut of this KASUMI knife lasts longer than any other knife, even allowing for constant use. In 2002, the KASUMI Series won the DESIGN PLUS Award at the Ambiente Messe in Germany.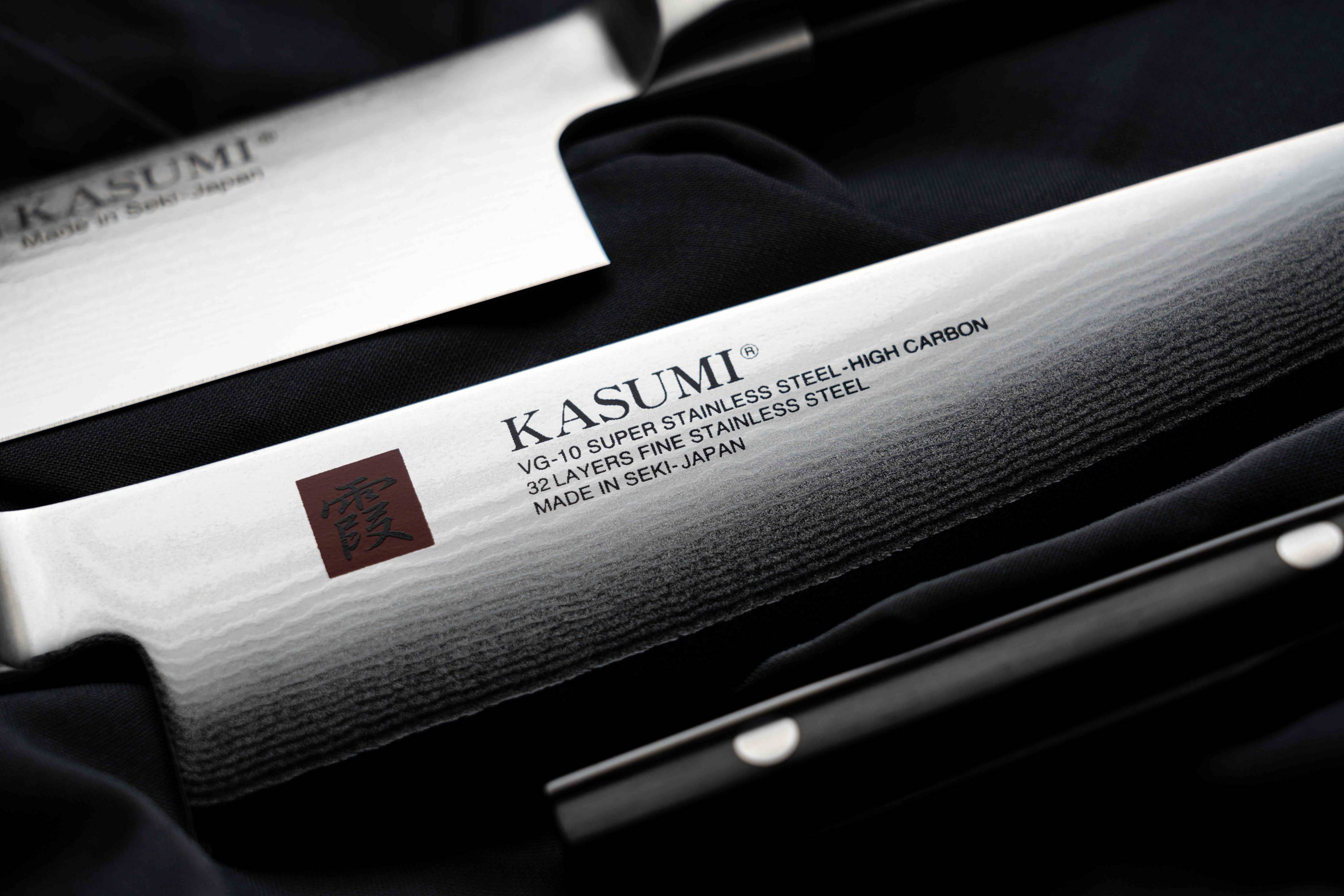 A unique hammer-patterned knife series finished by a mirror process
The super hard alloy VG-10 is used as a core material of the blade. This knife has a three-layered structure that holds the core material with corrosion-resistant stainless steel from both sides. The mirror-finishing technique has successfully created a modern look from the traditional pattern of marks with the curving knife. Seki's skilled artisans are responsible for assembling the blade. This series is exclusively for overseas sales.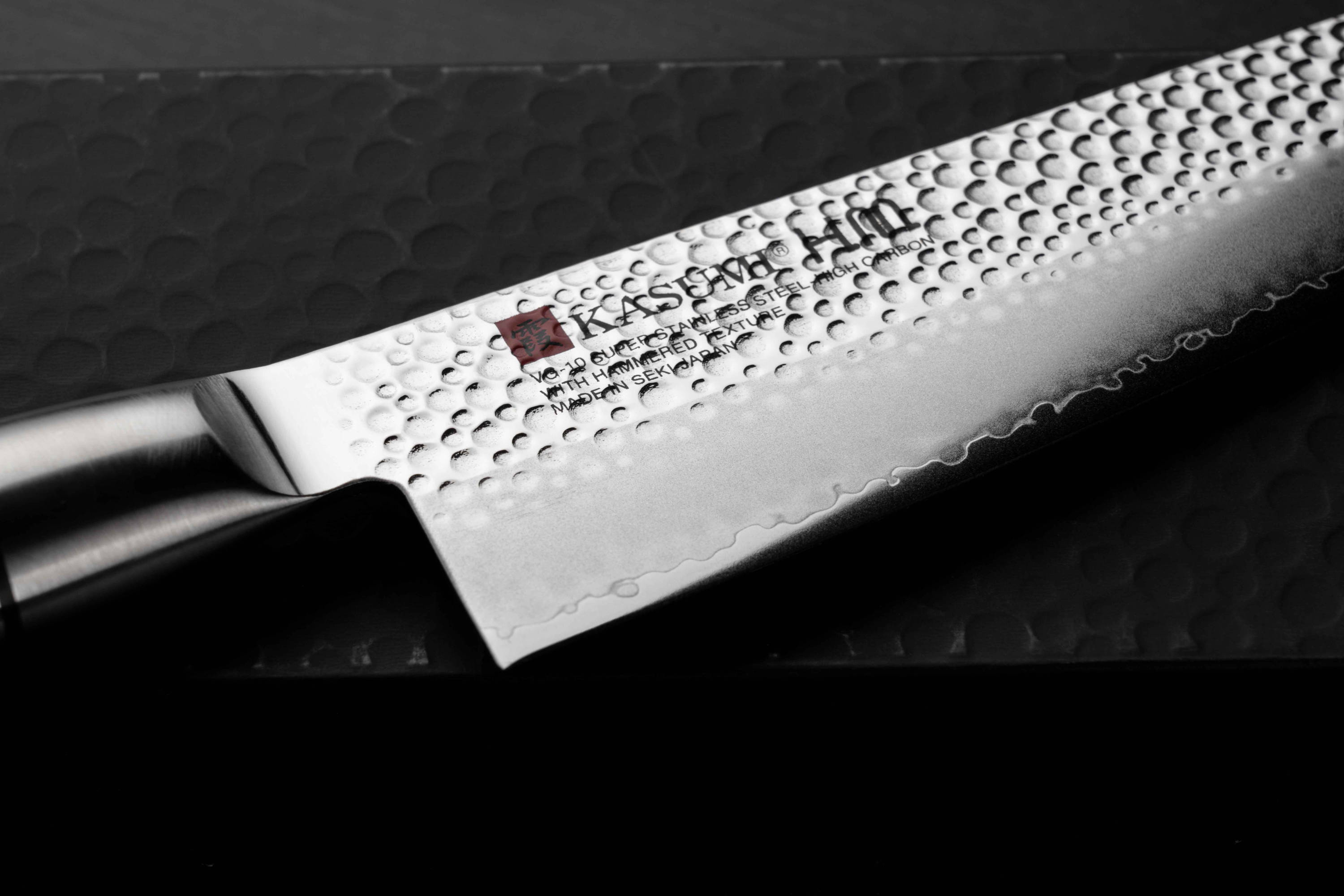 KASUMI VG-10 PRO knives are developed by combining the best technologies from over a decade of experience in producing KASUMI series knives.
KASUMI VG-10 PRO knives are handmade utilizing the skills of knife making specialists and crafted in the same fashion as traditional Japanese swords.

A kitchen knife that combines the Damascus pattern and the hammer pattern.
High carbon molybdenum vanadium steel is used for the core material, and 32 stainless steel layers are layered on both sides of the core material for forging, resulting in a flowing "haze pattern" and a "hammer finish". So, it brings out the image of an ancient Japanese kitchen knife. The handle is made of sturdy black laminated reinforced wood and has an octagonal shape, giving it a finish that is both durable and luxurious.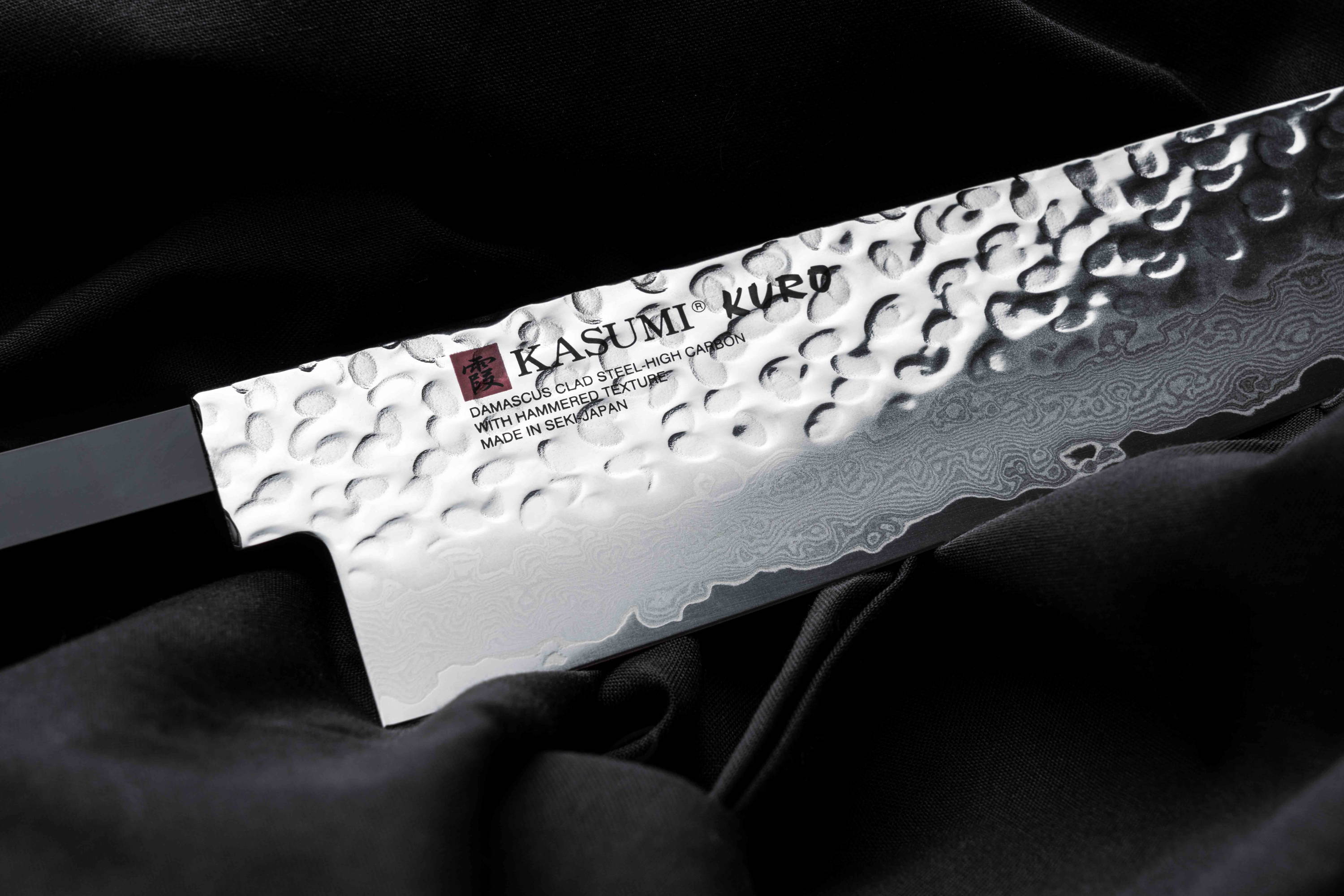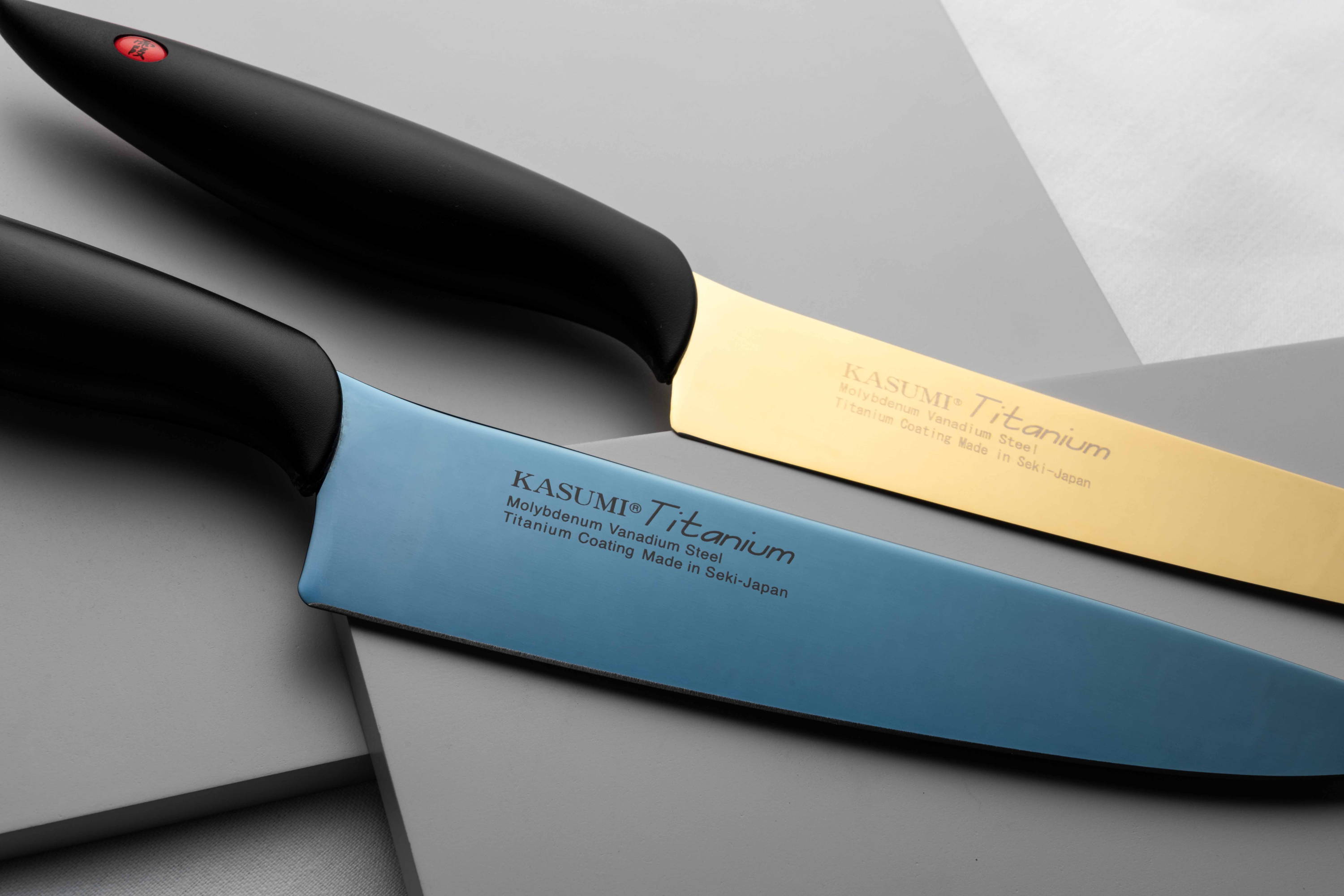 Light and shiny knife series made of a titanium-coated molybdenum vanadium steel.
To improve corrosion and abrasion resistance, a titanium coating is applied to molybdenum vanadium steel that features excellent rust resistance and sharpness. Seki's skilled artisans achieve a clear cut and functionality by finishing each blade precisely.
The color variation includes blue, gray, and gold. The knife can add a decorative accent to the kitchen. In 2006, this "KASUMI Titanium Series" won the DESIGN PLUS Award at the Ambiente Messe in Germany.